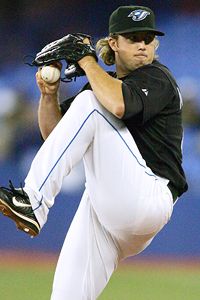 If there was one loser in the trade of Scott Rolen to the Reds, it has to be hard luck Jeremy Accardo. After the Jays acquired the rights to right handed reliever Josh Roenicke in the deal, Accardo was optioned down to AAA Las Vegas to make room for the newest member of the bullpen.
Accardo was not impressed with the demotion either, nor should he be. He spent the first couple of months buried in AAA when inferior pitchers were called up to pitch for Toronto, and has been very solid in 16 outings, not allowing a run in 12 of those contests while posting a solid 2.87 ERA.
The 27 year old Accardo saved 30 games for the Jays in 2007, missing most of the '08 campaign with a forearm injury.